Make Your Own Super Laundry Paste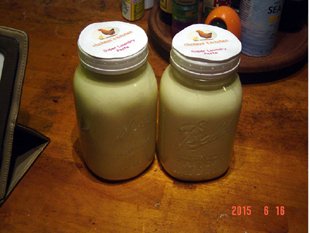 It may seem like a lot of trouble to make your own laundry detergent. But this recipe is not hard to make, and it is very economical. Only costing about $2.00 per 128 large or super size loads of laundry. If you have tried it already, then you know that this is a very good laundry soap. It leaves clothes clean, soft (no dryer sheet needed!), and smelling fresh. For perhaps an hour of your time you can make this recipe. Or you can try it first here!!
Ingredients
All these ingredients are readily available. They can be found at your local grocery store. I get mine at Wal-Mart, in the laundry soap section. You will need:1 bar Fel's Naptha Soap1 cup 20 Mule Team Borax1 cup Arm and Hammer Washing Soda (not baking soda!!)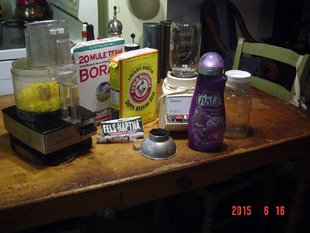 1/3 cup Lavender Purex Crystals4 cups watera food processor if you have onea 3 quart pot (referably stainless steel)2 regular mouth mason jars with lids and ringsa canning funnela blender
Part I - Cooking
1.) Cut the Fel's into small chunks,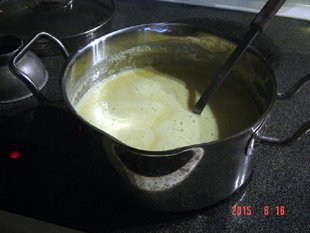 or if you have a food processor, grate the Fel's and set aside. 2.) Measure your dry ingredients: the borax, the washing soda, and Purex crystals into a small mixing bowl and set aside. **Important Note: You could use a larger pot, but nothing less that 3 quarts. I prefer stainless steel because it does not absorb odors the way a non-stick surface would. If you use a non-stick pot, it will smell "WONDERFUL!!" after you are done. It is pretty hard to tell when you have the pot good and clean when you go to put things away because the smell is strong. To remove it, I suggest you boil some water in that pot before you cook food in it again. I have a dedicated stainless steel pot for this recipe, so I have no problem with that anymore!3.) Bring the water to a boil on high heat. Then reduce the heat to medium before adding the Fel's.4.) Add the Fel's and boil on 7, for 12 to 15 minutes, until the Fel's is completely melted. It may even take longer.**Important Note: The boiling liquid will begin to rise up in the pot when the Fel's is almost completely melted. DO NOT LET IT BOIL OVER!! Reduce the heat to 6 at this time. Remove the pot from the burner momentarily if needed.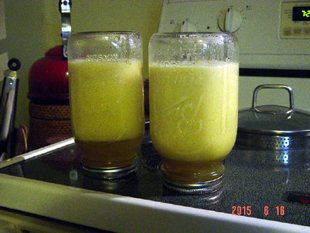 5.) After all Fel's is completely melted, remove the pot from the heat and add the dry ingredients. Stir constantly until it is all dissolved. I recommend using a metal, slotted spoon. It will not retain smells and it will be easy to see when everything is completely dissolved.6.) On medium/low heat, stir almost constantly until the grainy feel is completely gone when tested between your fingertips. Then remove from heat.7.) With a canning funnel, pour the liquid equally into the 2 mason jars.8.) Add enough water to each jar, to bring the level up to the bottom of the curve at the top of the jar. Immediately cap tightly and invert the jars. Allow to sit for 2.5 hours. The contents will separate.
Part II - Whipping
After 2.5 hours or so, the contents should be about right for whipping.1.) Very carefully open the jars.2.) Using a butter knife, carefully and slowly score into the solid layer several times. It can sploosh out at you if you are not very careful!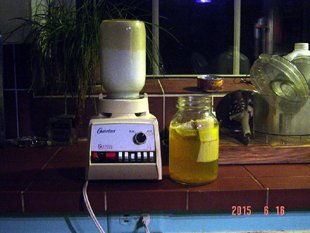 3.) Cut the solid layer into relatively large pieces, and lift them up, until they are swimming in the liquid. No solids should be stuck to the side of the jar. 4.) Screw on the blender base tightly, and process each jar thoroughly, until the contents looks like mayonaise. This takes about 5 minutes per jar. Start out on the "stir" setting and gradually increase to the "liquify" setting. If your blender does bind up after the first few seconds of blending, simply remove the jar from the motor and shake vigorously for a few seconds. Then replace the jar and continue.5.) After blending is complete, seal the jar and label it. I like the plastic lids that can be found in the canning section at Wal-Mart. They are one piece and much nicer to deal with.6.) Finally, draw a sink of the hottest water you can and put all your dirty dishes in there to soak awhile. This will make clean-up quite easy! But do be sure to inspect everything for bits of soap. Pay special attention to the food processor and blender blade, making sure that they are thoroughly clean in the crevices and underneath in the hard to reach places. This is where the hot water soak will really help you!Washing Instructions: This stuff is highly concentrated!! 1 level TBSP is plenty for a large or super sized load of laundry. Small and medium loads require 2 level teaspoons. Using too much will cause dull, dingy clothes. Also, try applying some of the paste directly to a bad stain, working it in gently, then washing as usual. This paste will get out some really tough stains!